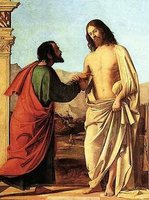 St. Thomas, one of the twelve apostles of Jesus Christ was born in the Galileian city of Pansada and was a fisherman. Hearing the good tidings of Jesus Christ, he left all and followed after him. Little is recorded in Bible about St. Thomas the Apostle, but still it gives us a wonderful image of the apostle.
Very much loyal to the master
When Jesus announced His intention of returning to Judea (where the Jews had previously tried to stone Jesus) to visit Lazarus, Thomas said bravely to his fellow disciples "Let us also go, that we may die with him" (John 11:16), brushing aside the protests of other disciples that their life may be in danger there.
Strong desire to know the truth
Thomas was not somebody who believes in rumours. When the other Apostles announced Christ's resurrection to him, Thomas said to them "Unless I see the nail marks in his hands and put my finger where the nails were, and put my hand into his side, I will not believe it" (John 20:25). Thomas wanted to see the resurrected Jesus like other apostles. He was very upset by his master's death and when he heard about his resurrection, he had a strong desire to see Jesus. Later we find that Jesus was concerned about it. His remarks didn't remain unattended. A week later Jesus appeared again and said to Thomas,"Put your finger here; see my hands. Reach out your hand and put it into my side. Stop doubting and believe" (John 20:27). This shows how much care and love Jesus had for Thomas. Thomas replied immediately by understanding the deep love of his master,"My Lord and my God!" (John 20:28)
Thomas as Missionary
According to Church Tradition, Apostle Thomas founded Christian churches in Palestine, Mesopotamia, Parthia, Ethiopia and India. The Apostle Thomas came to India in 52 A.D., and landed at Kodungallur on the Malabar (Presently Kerala) coast. He preached the Gospel to the Brahmin families of Kerala, many of whom received the faith.
While travelling through Malayattor (a village Located 52 kms from Kochi in Kerala), faced with hostile natives, he fled to the hilltop - Kurisumudy is the mountain at Malayattor 1269 feet above the sea level- where he is said to have remained in prayer and that he left his foot prints on one of the rocks. According to beliefs, during prayer, he touched a rock, upon which blood poured from it.
Later, he moved on to the east coast of India (Presently Tamil Nadu).
St. Thomas was handled brutally more than once there. In order to save his life, St. Thomas sought refuge in the jungles of Chinna Malai (Presently Little Mount in Chennai). A cave on this hillock offered him shelter. One could still see this cave, which is far from artificial. There is a spring on the rock behind the church, called perpetual spring of St. Thomas. It is traditionally held that St. Thomas struck the rock with his stick and instantly water gushed forth and thus the crowds that came to hear him quenched their thirst.
He was martyred in 72 A.D. by a fanatic at Parangi Malai (Presently St. Thomas Mount in Chennai) and his body was brought to Mylapore (in Chennai) and was buried there.
A church was built over the tomb of the Saint and the area near the church is known as Santhome Church. The word Santhome is derived from Saint Thomas. Santhome Cathedral Basilica is one among the three churches built over the tomb of an apostle. The other two churches built over the tomb of an apostle are St. Peter's Basilica at Rome, Italy (over the tomb of apostle Peter) and Santiago de Compostela Cathedral, at Santiago de Compostela, Spain (over the tomb of apostle James)
Once Dr. Rajendra Prasad, the President of India, said: "St. Thomas came to India when many of the countries of Europe had not yet become Christian, and so those Indians who trace their Christianity to him have a longer history and a higher ancestry than that of Christians of many of the European countries".
Christianity has been flourishing in Kerala since the arrival of St. Thomas. Around 20% of total population in Kerala are Christians (6.6 million out of 33 million). Despite its long history in India, Christians form only 2.2 % of the total population of the country. Out of nearly 1,100 million Indians, only 24.2 million are Christians. India has more and larger people groups with no Christians, churches or workers than any other part of the world. Some state governments have had a bad record for abuse of human rights and discrimination against Christians. As in Luke 10:2 says "The harvest is plentiful, but the workers are few. Ask the Lord of the harvest, therefore, to send out workers into his harvest field".